Distribution
As the demands of the food chain fluctuate, M J Griffiths Transport Ltd is proud of its capability of adapting to meet these demands. In providing a long-established transport service ranging from locally produced fresh vegetables to supermarket deliveries of prepared chilled and frozen goods, the company is in a strong position to recognise its customers' needs. Indeed, it saw the potential benefits which could be provided by a unique side-opening refrigerated trailer manufactured by Ekeri in Finland and became the first in the UK to commission such a vehicle.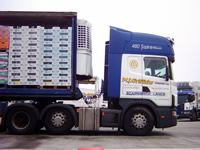 The transportation of all goods is made utilising top quality equipment, varying in both capacity and capability. Due to the company's high expectations of each vehicle, the whole fleet of its top quality articulated units are specialist-maintained and replaced every 2-3 years. This gives the company the ability to cover most areas of the country operating on a round-the-clock basis 7 days a week, with the added knowledge that if required, a replacement vehicle is always available. Likewise, all of its refrigerated trailers are covered by specialist maintenance contracts, providing the support needed for the company's successful operation.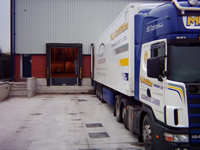 The company's transport customer base is continually increasing. Amongst these are several supermarket suppliers, confectionery manufacturers, suppliers to nationwide restaurants. frozen food distributors and produce growers local to the company. With the added benefit of its ideal location, M J Griffiths Transport Ltd is unrivalled in the transport services it offers. M J Griffiths Transport Ltd is a long-standing member of the Road Haulage Association.