Storage
With the regularly changing demands of consumers and therefore suppliers, M J Griffiths Transport Ltd recognised the increasing need for the temperature controlled storage of foodstuffs. In designing and commissioning its newly-built premises, the company decided to include the provision of a chillstore to provide for this need.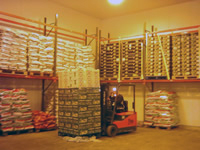 With the added help of West Lancashire District Council's Business Regeneration Scheme, the top of the range 4,300 square metre refrigerated system was installed. This facility is capable of storing a vast range of chilled goods from floral items to fresh fruit, from dairy products to fresh vegetables, using its comprehensive racking systems and temperature range of 0 C to +9 C.
The company currently has links with some of the major supermarket suppliers and collects, stores and ultimately delivers the specified products on their behalf. The Company is able to arrange the collection and delivery of produce requiring storage, or to offer the storage facility as a stand alone service.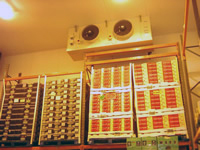 Upon receipt, all consignments are meticulously catalogued and recorded, enabling the provision of accurate information and stock control to be made as and when each customer demands.